A one year program to take your life further faster with less effort.
Billion dollar Brand Builder + NY Times Best Selling Author.
#1 International Best-Selling Author + Inspirational Success Expert.
Giving you guidance and support, every month!
Team Patty + Kate will be available on live monthly mastery calls, which will all be recorded for your reference and convenience. We will also be available for support and guidance within the Private Facebook Group.
Unlimited access to the experts who have walked the path before you. Be coached and mentored by Jack Canfield, Lisa Nichols, J.J. Virgin, Lisa Sasavich, Mary Morrissey, Marci Shimoff and Natalie Ledwell … just to name a few (more details below!)
Access to the Guidance Guide which will be posted monthly as a companion to bring you through the course.
365 days of Permission Granted
Techniques to live the life you were designed to live.
Access to Private Facebook Group
For connection, call recordings + bonus material.
Imagine what it would look like if you had next-level support and expert guidance from the type of life-changing mentors you thought you'd never have access to…
What will you accomplish with an entire stable of experts and mentors to lean on?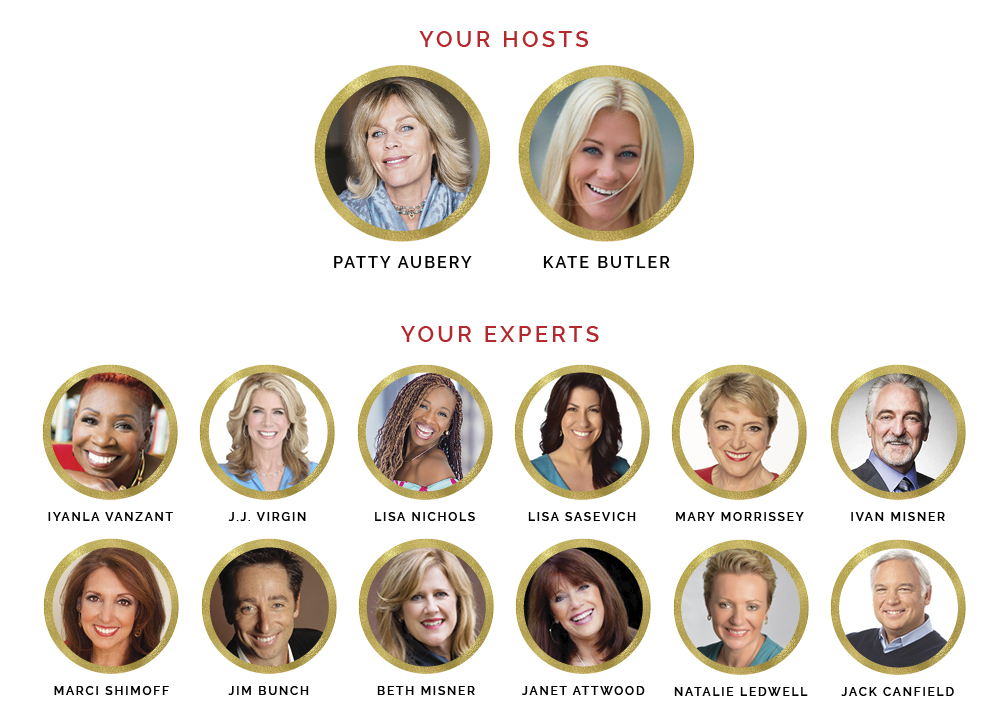 Grant Yourself Permission
Access to 12 Live Monthly Mastery Calls + Complete Access to ALL 12 Expert Calls
Live Monthly Coaching
Private Facebook Mastermind Group
Monthly Permission Guidance Guide
Pay In Full $2,997
or
Payment Plan $297 x 12

*choose desired payment
option on the next page

Does this sound familiar?
You have big, HUGE dreams, but have no idea where to start to make them become your reality
You KNOW you're here to play a bigger game, but you can't quite put all the puzzle pieces together…
You feel like everyone around you is having big wins, and you know in the depths of your being that you're capable of having those too…
You admire the big experts who are living the life you've always dreamt of, but fear they're out of reach and that you'd never have access to them
You've taken the first step on your big dream, but aren't quite sure how to elevate to the next level
You feel like you're at a crossroads in your life and wish you could truly have expert guidance on what direction to take to bring your biggest vision of yourself to life
Yes? Then we are so glad you made it here.
You are in exactly the right place.
You're about to learn how to play a bigger game to finally make your wildest dreams come. How wild? Let's just say that the wilder the better… because we are here to make MASSIVE impact on the world.
It all starts with granting yourself permission.
Let's start with a couple of stories:
Patty's career started when she answered an L.A. Times ad. It read Secretary wanted, $25K a year. Against her father's advice, she took a leap and took that job. Little did she know that the man who had just hired her, Jack Canfield, would turn out to be the man he is known as today. That leap changed Patty's life forever. Within a short time, She became the President and CEO of Jack Canfield's companies. Since then she has published 230 Chicken Soup titles, 14 of her own, and become a New York Times Best Selling Author.
Kate was a work at home mom following the motions of life. She took a leap and signed up for a program, and ended up as one of Patty's students. This connection inspired her to write her first book, which launched as a #1 international bestseller. Since then she has published 7 more #1 bestselling books, has mentored and published 104 #1 Best-selling Authors through her publishing company and successfully coached over 300 women to live the life of their dreams.
To some, these stories may sound like fairy tales. But they're nothing but. Both Patty and Kate did one extraordinary thing, they took a leap. But that leap started with a something far more important, THEY GAVE THEMSELVES PERMISSION.
These women prove that when you give yourself permission to chase your their wildest dreams and live the life you KNOW you were meant to live DOORS WILL OPEN.
It doesn't matter where you're starting from.
All that matters is that you choose to BEGIN.
But as both of these stories show, you must surround yourself with people who have paved the path you want to take, people who are not only cheering you on but are committed to giving you the support and guidance you need to make your dreams a success.
If you want to make the massive impact that we know you desire, you must give yourself permission to dream and play bigger than you ever have before. It's time to commit to yourself to your success today…
Give yourself permission to propel forward.
Give yourself permission to believe you are worth it.
Give yourself permission to live your best life and become your best self.
But let us tell you, it's NOT EASY to do it all on your own…
Patty didn't do it on her own. She partnered with Jack Canfield to create their billion dollar success.
Kate didn't do it on her own. She partnered with Patty to create her massive success in her career as an author, publisher, speaker and coach.
And now we are partnering together to guide the biggest dreamers to live their best lives…and we want YOU to join us.
We believe that is ANYTHING is possible. Not some of the things, not most of the things, not the things that make sense or the things within reach … but
ALL OF THE THINGS.
We believe ALL OF THE THINGS are possible for YOU.
We also believe that it helps tremendously to have experts in your corner who are willing to show you the exact path to make your dreams a reality.
That's what we're here to do for YOU…
Why Permission Granted
and Why Right Now?
Permission Granted is a ONCE IN A LIFETIME program and opportunity.
Patty Aubery has NEVER stepped away from strategizing for Jack Canfield long enough to run her very own program, but she has now opened herself to be invested in this for YOU.
–
Each of the experts on our list of participating guest experts in this program NEVER offer themselves to work with 1:1. There is no way you can book a call with them, there is no way you can work directly with them. Even if you had the means to invest in their value, these highly sought after experts aren't accessible to the public. But in Permission Granted, they are making themselves available in a LIVE setting to interact with you, coach you, and guide you directly.
–
When else will you have an opportunity like this in front you? It is NO MISTAKE that YOU'RE reading this right now. The very fact that you're on this page is a gentle nudge to get you to take action on your biggest dreams. Remember all it takes is one leap in the direction of your highest self for doors to open for you. Don't let this be the door you later regret not walking through. The time is now, my friend.
Words cannot express the gratitude I have for meeting Kate in March. She was a guest speaker at an event I attended. Listening to her story and what she was able to create for herself despite what life had dealt her was such an inspiration. She shared real concrete tools that I use on a daily basis to live from that place of connection with the Divine within me. Kate is soulful and strategic, magic and masterful in her co-creation with Source. I left the event having recognized myself as a Soulful entrepreneur who was ready to go out into the world and truly be heard. I've since signed up to be a part of Kate's Women Who Impact book and traveled to the South of France for a retreat full of miracles. I have had a couple of requests to speak and I am finally in a place where I feel worthy to put my message out into the world.
I had never quite found women doing business in the way I had always dreamed of and with Kate, I had an opportunity to see someone able to claim all aspects of herself and succeeding beyond belief. So much has happened in the last 3 months. Kate is a powerhouse and her ability to see me so clearly helped me see myself through her eyes. I I feel unstoppable!!! Patty Stacco
Kate is AH-MAZING to work with. I had the honor to work with her on the Women Who Influence Book project. The experience was beyond my expectations. The book process was intimidating to me however Kate and her team make it super easy and stress-free. The authors only had the responsibility to focus and write our chapters. All the other book details were taken care of for us. The support provided throughout the entire time together was absolutely magnificent. Kate understands the multitude of emotions that arise writing your truth – your message – the vulnerability and rawness of your story being published for the world to read. She gets it and is there to hold your hand in support and guidance. I'm forever grateful for this transformational experience! Shalini Breault
Patty Aubery is a brilliant outside-the-box thinker who gets you to achieve bigger results faster than you ever imagined possible. She's been a wonderful client, business partner, advisor and friend to me over the years. I can't say enough about her. Don't be surprised if she cares more about your success than you do. She's THAT kind of person. Whether you need an inspiring speaker or a top level coach, book Patty now! You'll be glad you did. Steve Harrison
I will admit, I was not sure in the beginning if I wanted to work with Kate to get my story out to the world. It did not have anything to do with Kate, because, as I am sure you've seen, the woman is a ray of energy 24.7. I was hesitant because I was not sure if anyone would care or learn from my story. I didn't think it was tragic enough to share, as weird as that may sound. But, luckily, Kate saw it a completely different way. I learned there are thousands, if not millions , of people out there whose lives were out of balance, who were in overwhelm and who needed to climb out of their dark hole, just like me. My story showed them how I did this and helped show them a way out, as well, which I know has helped many, many women. The coaching program Kate provides is not just about books, she provides life, business and mindset coaching wrapped up all in one. Working with Kate was a life changing experience for my mindset, health, well-being and my business. The last thing that needs to be said, is the women Kate attracts are the best people I have in circle. You will meet the most extraordinary people just by being in her circle. Colleen Hauk
Patty Aubery is a true visionary and inspiring leader. Patty's brilliance is profound, but her ability to see the possibility in people they do not always see in themselves, is her true gift. Patty shows people the path to living life in their true purpose and inspires them to change course to live life "full out". Patty has taught me some of my greatest lessons and paved the way for me to move from possibility to probability.
Patty sees the golden essence in people and is able to help each person identify their unique gifts. She is a master at developing techniques and strategies on how to bring that gift forth in the world to move from a life of status quo to a life of greatness and purpose.
I will be forever grateful for the gifts Patty has shared with me and the encouragement she gave me to take the next step to launch my training and coaching company The Defining Difference. I am very grateful for Patty Aubery and her willingness to share her heart so fully and for believing in me when I did not always believe in myself. She is an extraordinary business leaders and strategists and has definitely made a defining difference in my life. Cindy Ertman
Kate Butler is one of the most authentic, honest, enthusiastic people I have had the pleasure of meeting. She has a genuine desire to help others create success in their lives and she is amazing at inspiring others to find their passion and live it. Everything she does, from her books, to her events, to her coaching, is done with class and finesse. Kate is one of those rare people who truly walks the talk. Listen to her. Follow her. Invest in everything she offers. I highly recommend her. Peggy McColl
Patty Aubery brings everything she touches to vibrant life. I have been in corporate America for 20 years and haven't seen anything quite like her level of strategic planning and sheer marketing talent. A keen listener, she is begins in learning/consultant mode, ready to absorb the goals, direction and best interests of the client, and then when it's time to create, prepare and launch, she becomes an "idea genius," a term I have used for her since the day I met her. She has a brilliant mind, a heart of gold, is a powerhouse marketer, and all-around incredible consultant. Megan McNealy
Kate has a way of seeing your story + the way it can impact others immediately. Within one conversation you all of a sudden understand the common thread + why it needs to be shared. Going through the process of writing a chapter for Kate's collaborative books was such a beautiful honor as Kate's mission to ignite, inspire, influence + impact other women around the world is embodied through every women + story that is shared in these collections. It felt like the perfect process + stepping stone to sharing my message + story in bigger ways + on bigger stages, that I wasn't quite ready for before. Thank you to Kate for truly SEEING what was always inside me + helping me articulate + share it with women who didn't even know they needed it! Adrienne Dorison
You have to believe it to see it.

Are you willing to give yourself permission to see your big dream with the experts who can help you realize it?
Are you ready to go further faster with ease and spend less money? We have already made the expensive mistakes so you don't have to. We don't just guide you on what to do, we guide you on how to avoid the same mistakes we made on our own journey.
This program isn't just about granting yourself permission to dream big… It's about giving yourself permission to truly create your big dreams with the support and guidance from someone who's already "been there, done that."
It's time to make your future a priority.
Grant Yourself Permission
Access to 12 Live Monthly Mastery Calls + Complete Access to ALL 12 Expert Calls
Live Monthly Coaching
Private Facebook Mastermind Group
Monthly Permission Guidance Guide
Pay In Full $2,997
or
Payment Plan $297 x 12

*choose desired payment
option on the next page