What if you could become a best-selling author, even if you you've never written a book before?
All you have to do is write your story from your heart and let the experts do the rest. Not only will you be a bestselling author by the end of this program… you will learn the process without having to do it by yourself.
Writing a book can be overwhelming. That's why this is not just another "do-it-yourself" program. Think of this as "on-the-job" training.
Let the experts handle the behind the scenes heavy lifting of editors, proofreading, publishers, book designer, cover design and marketing. Not only will they unpack the pressure of the book process, you will learn and master that process without having to do it alone.
What would you accomplish over the next year if you had the same coaching, accountability, and business strategist that championed my career guiding yours?
Patty Aubery is my business partner and the President of The Canfield Training Group, and past President of Chicken Soup for the Soul Enterprises. Not only did she oversee the growth of the publishing industry's first billion-dollar brand in Chicken Soup for the Soul®, she also co-created a multi-million dollar training company around my book The Success Principles, How to Get From Where You Are to Where You Want to Be. From my early days as an emerging self-esteem expert to becoming a world-renowned public figure as America's #1 Success Coach, Patty has been the guiding force—overseeing every deal, standing by my side cheering me on. Now I want to see her do that for YOU.
America's #1 success coach
Billion dollar Brand Builder + NY Times Best Selling Author.
Patty has been the champion of my career. There isn't a project program, idea, opportunity, market or career move that she doesn't know intimately.
Patty was the primary driving force in the globalization of The Success Principles and was the mind behind:
Train the Trainer Online Certification
Train the Trainer Live Certification
International Coaching Company
Luxury Retreats
Virtual Year Long Mastermind
Expanding the Canfield Training Group programs to 108 countries certifying thousands of trainers, coaches, and change agents around the world transforming lives.
Kate Butler, is a Certified Success Coach & #1 Best-selling and International Award-Winning Author, Inspirational Speaker and Intuitive Success Coach. To date, she has published 8 books of her own, including the best-selling Inspired Impact Series, which includes the titles Women Who Ignite, Women Who Inspire, Women Who Influence, and Women Who Impact. Kate's publishing company, Inspired Impact™, has respectively published 91 #1 Bestselling Authors.
Her soulful mission is to guide people to activate their core brilliance so they positively impact people's lives and ignite their own.
Her many accolades include:
Winning the prestigious International Readers Favorite Award™ & Mom's Choice Award™
Her first book, More Than Mud, stayed on the best-selling charts for over 100 weeks straight.
Sharing the stage with the Jack Canfield, Marianne Williamson, Patty Aubery and Laura Vitale.
Being featured on HBO, Sesame Street, PHL17 Morning Show, The Huffington Post, Fast Company, FOX and NBC.
CORE BRILLIANCE ACTIVATOR™ & CREATOR OF THE INSPIRE IMPACT BOOK SERIES
Are you ready to give yourself permission to become her next client?
Find out if this program is right for you!
what does it look like to grant yourself permission?
BEcome a best-selling AUTHOR
By doing what you do best, writing from your heart and allowing us to handle all the logistics. Be a co-author alongside other amazing women in the guaranteed Best-selling book, Permission, with Patty Aubery and Kate Butler.
For the record, we have never had a book not hit #1 across multiple categories on launch day!
Publishing Process & strategy done for you
Not only do we handle all the back-end work, the logistics of putting together a book and deliver the finished product… We help you identify your unique story to position YOU as the expert in your field and ensure you have the platform to propel you into a new arena where your message + influence + business collide in a meaningful way, creating a positive impact on those you reach around the world, as well as creating a positive impact on your business.
3-hour virtual vip strategy session!
Join us for a special 3 hour intensive strategy session to kick-off the program! This session will help you identify your unique story, begin the process of building out your platform and create your unique strategy with the experts right from the beginning!
Attend the Live Mastermind Retreat at Patty Aubery's home in Nashville.
6 part best-seller program
Teaching you all the ins and outs of how to write your story, how to create a book that is a business, how to leverage your platform and how to publish a best-selling book.
Team Patty + Kate will be available on live monthly mastery calls, which will all be recorded for your reference and convenience. We will also be available for support and guidance within the Private Facebook Group.
Live calls with Jack Canfield, Lisa Nichols, J.J. Virgin, Lisa Sasevich, Mary Morrissey, Marci Shimoff and Natalie Ledwell … just to name a few.
Three one on one coaching calls with Patty and three one on one coaching calls with Kate.
What impact will you make when you have

visibility

,

credibility

, and a

global support network

behind your message?
What will you accomplish with an entire stable of

experts

and

mentors

to lean on?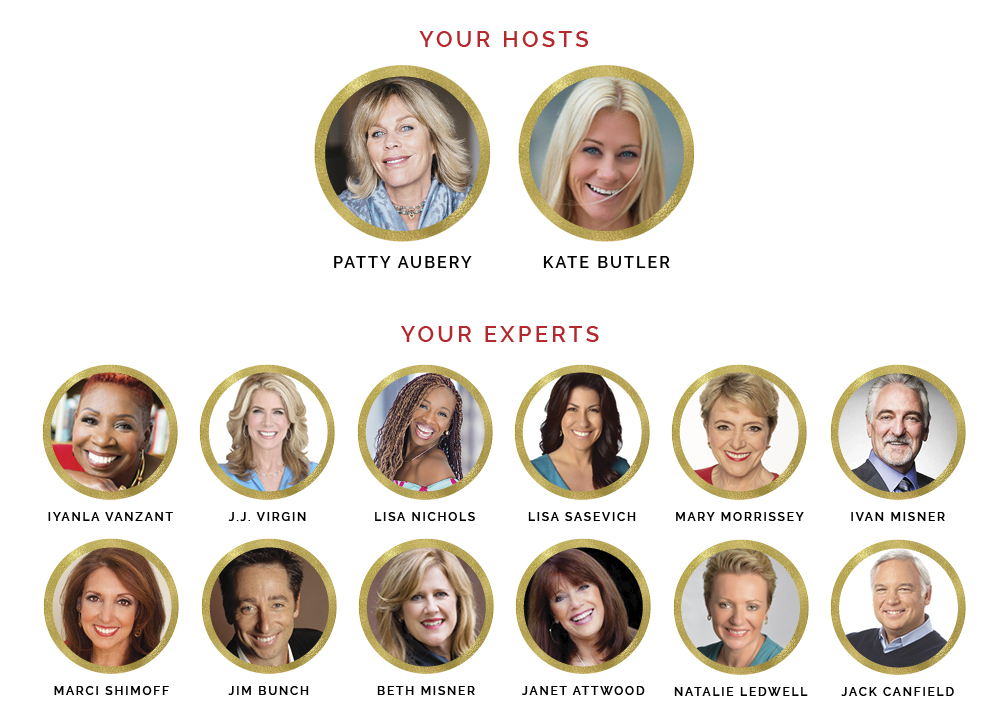 Why Permission Granted
and Why Right Now?
Permission Granted is a ONCE IN A LIFETIME program and opportunity.
Patty Aubery has NEVER stepped away from strategizing for Jack Canfield long enough to run her very own program, but she has now opened herself to be invested in this for YOU.
–
Each of the experts on our list of participating guest experts in this program NEVER offer themselves to work with 1:1. There is no way you can book a call with them, there is no way you can work directly with them. Even if you had the means to invest in their value, these highly sought after experts aren't accessible to the public. But in Permission Granted, they are making themselves available in a LIVE setting to interact with you, coach you, and guide you directly.
–
When else will you have an opportunity like this in front you? It is NO MISTAKE that YOU'RE reading this right now. The very fact that you're on this page is a gentle nudge to get you to take action on your biggest dreams. Remember all it takes is one leap in the direction of your highest self for doors to open for you. Don't let this be the door you later regret not walking through. The time is now, my friend.
Words cannot express the gratitude I have for meeting Kate in March. She was a guest speaker at an event I attended. Listening to her story and what she was able to create for herself despite what life had dealt her was such an inspiration. She shared real concrete tools that I use on a daily basis to live from that place of connection with the Divine within me. Kate is soulful and strategic, magic and masterful in her co-creation with Source. I left the event having recognized myself as a Soulful entrepreneur who was ready to go out into the world and truly be heard. I've since signed up to be a part of Kate's Women Who Impact book and traveled to the South of France for a retreat full of miracles. I have had a couple of requests to speak and I am finally in a place where I feel worthy to put my message out into the world.
I had never quite found women doing business in the way I had always dreamed of and with Kate, I had an opportunity to see someone able to claim all aspects of herself and succeeding beyond belief. So much has happened in the last 3 months. Kate is a powerhouse and her ability to see me so clearly helped me see myself through her eyes. I I feel unstoppable!!!
Patty Staco
Patty Aubery is a brilliant outside-the-box thinker who gets you to achieve bigger results faster than you ever imagined possible. She's been a wonderful client, business partner, advisor and friend to me over the years. I can't say enough about her. Don't be surprised if she cares more about your success than you do. She's THAT kind of person. Whether you need an inspiring speaker or a top level coach, book Patty now! You'll be glad you did.
Steve Harrison
I will admit, I was not sure in the beginning if I wanted to work with Kate to get my story out to the world. It did not have anything to do with Kate, because, as I am sure you've seen, the woman is a ray of energy 24.7. I was hesitant because I was not sure if anyone would care or learn from my story. I didn't think it was tragic enough to share, as weird as that may sound. But, luckily, Kate saw it a completely different way. I learned there are thousands, if not millions , of people out there whose lives were out of balance, who were in overwhelm and who needed to climb out of their dark hole, just like me. My story showed them how I did this and helped show them a way out, as well, which I know has helped many, many women. The coaching program Kate provides is not just about books, she provides life, business and mindset coaching wrapped up all in one. Working with Kate was a life changing experience for my mindset, health, well-being and my business. The last thing that needs to be said, is the women Kate attracts are the best people I have in circle. You will meet the most extraordinary people just by being in her circle.
Colleen Hauk
Patty Aubery is a true visionary and inspiring leader. Patty's brilliance is profound, but her ability to see the possibility in people they do not always see in themselves, is her true gift. Patty shows people the path to living life in their true purpose and inspires them to change course to live life "full out". Patty has taught me some of my greatest lessons and paved the way for me to move from possibility to probability.
Patty sees the golden essence in people and is able to help each person identify their unique gifts. She is a master at developing techniques and strategies on how to bring that gift forth in the world to move from a life of status quo to a life of greatness and purpose.
I will be forever grateful for the gifts Patty has shared with me and the encouragement she gave me to take the next step to launch my training and coaching company The Defining Difference. I am very grateful for Patty Aubery and her willingness to share her heart so fully and for believing in me when I did not always believe in myself. She is an extraordinary business leaders and strategists and has definitely made a defining difference in my life.
Cindy Ertman
You have to believe it to see it.

Are you willing to give yourself permission to see your big dream with the experts who can help you realize it?
Are you ready to go further faster with ease and spend less money? We have already made the expensive mistakes so you don't have to. We don't just guide you on what to do, we guide you on how to avoid the same mistakes we made on our own journey.
This program isn't just about granting yourself permission to dream big… It's about giving yourself permission to truly create your big dreams with the support and guidance from someone who's already "been there, done that."
It's time to make your future a priority.
Still have questions?
Call our team & find out if this program is right for you!
805-881-5188
Is this program exactly what you have been looking for to increase your influence, impact & business? Sign up now below to ensure your spot in this once in a lifetime opportunity!
Payment plan
$6,000 down payment.
immediate access!
Frequently Asked Questions
I've always wanted to write a book, but where do I start?
Writing a book can feel overwhelming, but it doesn't have to be. As a co-author in Permission Granted, all you need to do is write a single chapter. We unpack the pressure of the book publishing and promotion process, and all you have to do is write your story from your heart with our guidance. We take care of all the behind scenes heavy lifting of editors, proofreading, publishers, book designer, cover design and marketing.
Can you guarantee the book will be a best-seller?
Yes. Both Patty and Kate have vast experience in promoting books and have created dozens of bestsellers of their own. In Permission Granted we help you write your story and become a best-selling author and provide you an audience and platform to share your message to make the impact you desire.
Will there be interaction with others in the group?
YES! You'll connect with a close-knit community of like-minded women who will begin as your co-authors and have the opportunity to develop collaborative partners, affiliates and business BFFs.
I am not great at marketing, is this for me?
You will learn the entire launch process for the book, and how you can position your next book or product to become a best-seller.
How will this program help take me to the next level?
Permission Granted will increase your influence, impact, & business. This platform will take you from where you are and propel you into a new arena where your message + influence + business collides in a meaningful way, creating a positive impact on those you reach around the world, as well as creating a positive impact on your business.
Will I get 1:1 coaching?
A: Yes! You will receive 1:1 coaching call from both Patty Aubery and Kate Butler to help you write your compelling story, build your signature platform, and strategize scalability.
I have heard a book is an expensive business card, do you agree?
Actually, yes, we do agree. Unless you know the book industry as we do. In Permission Granted we'll invite you to the 42 Revenue Stream Workshop Call that will walk you through 42 ways you can create revenue just from your book!
I am looking to expand my business, is this program for me?
If you're looking to start or expand your current business, this course will provide you with the necessary tools to take you to the next level. If you're not in expanding your business, the program will provide you with the success tools you need to align more fully with your life, passions, and purpose.
I've signed up for other courses and have not received results, how do I know this is right?
This program is ONLY comprised of true experts with proven track records who have achieved massive results, not only in their own lives but for millions of people around the world. We truly believe this program will work if you put in the work. But just like buying a gym membership won't cause your body to suddenly get into shape, this program still relies on you taking action and putting in the work. Not to mention it's much easier to get the results you want when you have the experts guiding you for an entire year.
What can I expect from this program?
A supportive and safe environment to focus on your successful growth in life and business.
Expansive content that will propel you forward faster than attempting to piece together ideas and strategies on your own.
Direction to divinely design the life you are seeking.
Tools, resources, conversations, and mentors who can specifically guide you through the exact challenges that are holding you back and teach you how to master it so you can move forward.
Meditations, strategies, processes, love, support, and guidance to propel your life forward.
I'm super busy right now. What if I don't have time each month for the calls?
All calls will be recorded and you will have access to all the modules throughout the program and beyond the so you can come back and access these calls at any time.
Are payment plans available?
Yes, absolutely! We have options available to meet everyone where they are. Although, you will receive a handsome discount for paying in full.
What if I have additional questions before making a decision?
We are more than happy to answer any remaining questions for you. Call us now at 805-881-5188.
Still have questions?
Call our team & find out if this program is right for you!
805-881-5188